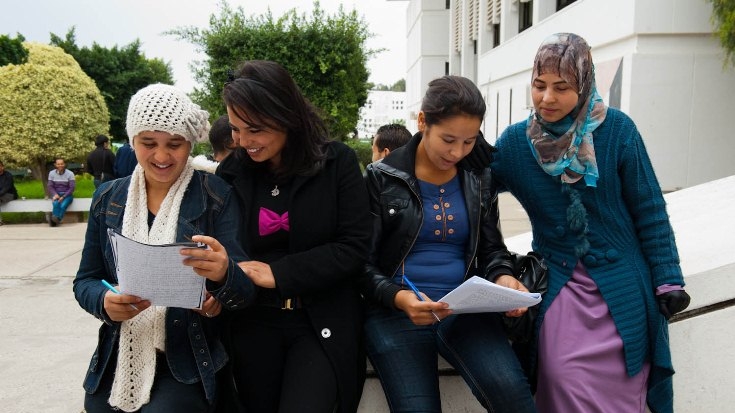 International Education and the MENA Region
In the aftermath of international events affecting higher education like Saudi Arabia ordering 16,000 of its students to leave Canada amid diplomatic clashes, and Trump's travel ban, students from the MENA region are even more determined to study abroad. 
For many of them, travelling abroad to complete their education in the West is a both a tradition and rite of passage.
Now, more than ever, university administrators must understand how political moods affect student mobility in order to better identify recruitment opportunities.
Outbound growth from MENA
Over the past decade we've seen huge growth in students from the Middle East and North Africa studying abroad for all or part of their undergraduate or graduate degrees.
Middle Eastern nations not only keep pace with the climbing number of internationally mobile students, they also continue to increase their proportional representation.
In fact, the MENA region is second only to Asia in the number of students studying in North America.  
MENA students enrolled at American universities have tripled since 2000, with a 20 percent growth rate in recent years, which is far above the average growth rate of eight percent.   
The most popular choices for Middle East students in Europe are Germany, the UK and France, which have seen similar increases.  
International programs
Generally speaking, engineering, business and management, and math and computer science programs attract the highest number of international students.
According to the international study platform studyportals.com, medicine is a popular choice for overseas Arab students applying to study in Germany.
A company study also found that, alongside a growing arts scene across the region, more MENA students are applying to Western institutions for social sciences and creative courses.
Regional dynamics
MENA nations recognize the long-term economic benefits of boosting access to world-leading universities and international experience.
Government sponsorship programs like Saudi Arabia's King Abdullah Scholarship Program (KASP) have fueled the growth of MENA students studying abroad over the past decade.  
While the Saudi program is the largest and best-known, Middle Eastern nations like Qatar, Kuwait, United Arab Emirates (UAE), Egypt, Oman, Libya and Iraq, offer similar programs.
And as perceptions of the benefits of studying abroad grow across the region, the number of self-funded international students has also increased.
At the same time, Gulf countries have increased efforts to promote education within the region by encouraging the brightest minds to pursue higher learning at home. 
International education and MENA today
Seventy percent of MENA's 400 million population is under the age of 30, which represents a new generation of nearly 140 million considering education – many will look abroad.
In 2018 alone, over three million MENA students looked for education via the international study platform studyportals.com.
The company recently analyzed its data to provide insight into MENA student interest, which has already proven to be a reliable predictor of future enrolments. Here is what they found: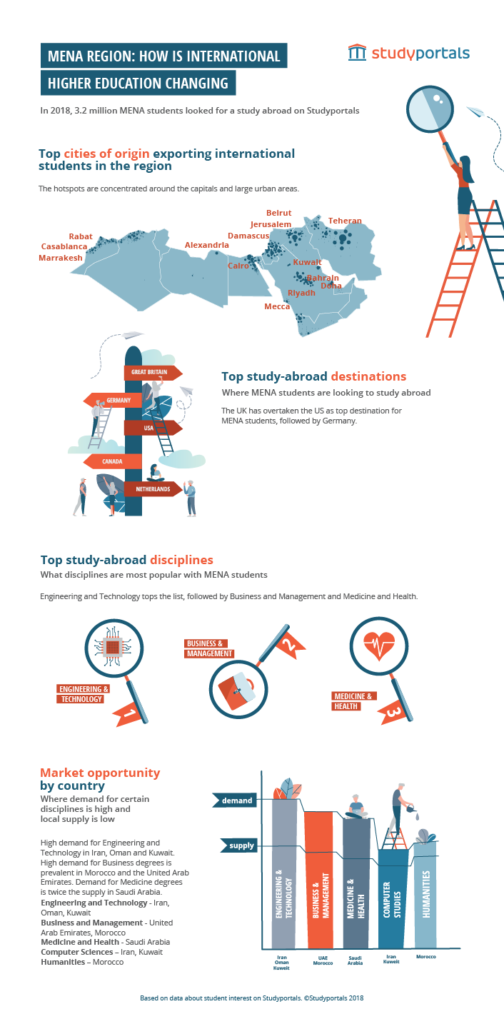 Contact MLC Media today and learn how our consultants can help your international student recruitment efforts in the MENA region.
featured image credit: The World Bank