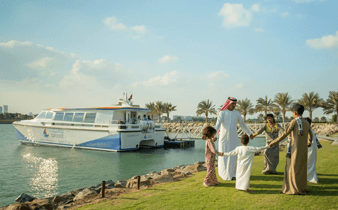 What can the Travel Market Learn From Modest Fashion?
*this is a guest post by Sharmeen Suleman 
The Muslim travel market is on course to continue its fast-paced growth to reach $220 billion by 2020, and is expected to grow a further $80 billion to reach $300 billion by 2026.
But what does the Muslim traveller really want and can the travel market learn something from the booming modest fashion industry?
In 2004, when I launched Muslimah Essentials, there were very few online companies selling clothing for Muslim women in the UK.
Fourteen years later, there's an entire industry catering to women who want to dress more conservatively: modest fashion.
From London to Jakarta, fashion shows and events are dedicated entirely to modest attire; there's even a Wikipedia entry for it.
But the rise of modest fashion did not grow out of something new or novel.
Designers simply recognized that modifying existing designs to include longer sleeves, higher necklines, and longer-lengths would appeal to Muslims and other modest-conscious consumers, and sell just as well alongside sleeveless shirts and dresses, plunging necklines, and mini skirts.
And can we apply the same principle to the fast growing Muslim-friendly travel market.
Until now, the Muslim-friendly travel narrative has catered to the needs of the Muslim travellers exclusively and independently from the wider market.
'Muslim-friendly tourism' and 'halal tourism' are terms used to refer to the Muslim travel market, which many consider a niche in its own right.
Yet, similar to modest fashion, there are many ways hotels can modify their existing offerings to appeal to Muslims without having to make big investments or reinvent the wheel.

Beyond Alcohol Free and Certified Food
Crescent Rating recently spoke to the vice president of Shaza Hotels, Christian Nadar, about investment in halal tourism. "If an investor wants to enter the hotel business today, he is actually fulfilling a need in 2021," he said.
According to Nadar, there is more to meeting the needs of halal-conscious travellers than alcohol-free environments and halal certified food.
In fact, brands that take a cookie cutter approach have learned the hard way that not all Muslims think alike. Customs, traditions, even values, vary greatly among global Muslim populations, and growing research demonstrates that Muslims do not fit one mould.
I conducted my own informal research by surveying people in Muslim Facebook groups. Eighty-six percent of the people I surveyed – mostly Western Muslims – said that having 'halal food nearby' was important to them.
Yet just thirteen percent said they would only book a hotel that serves halal food exclusively (some will happily eat fish & vegetables while on holiday).
Similarly, only 12 people checked "must have no alcohol on site". These findings indicate that halal food and an alcohol free environment is not a necessity for all Muslim travellers even though most marketing campaigns emphasize both.
At the same time, there are several common themes that marketers can use to reach a wider consumer base, including Muslims. These themes reflect the increased interest in 'health & wellness' and 'travel activities' among travel consumers.

Health & Wellness
Touted as the next trillion dollar industry, health and wellness has wide appeal, and there are several, relatively small, changes hotels can make to appeal more to Muslims as well as other consumer groups:
Scheduling ladies- and men-only hours at the spa in the off hours.
Creating a distinct and clearly labelled vegetarian section within the restaurant to prevent the risk of cross-contamination with meats.
Running ladies- and men-only exercise classes or other spa activities.
Spiritual, or quiet, rooms have become increasingly common at airports around the world. In addition to attracting more visitors, offering a quiet place where people of all faiths can escape from the daily grind communicates an organization's own values.
Offering a separate bar or happy hour for non-alcoholic mocktails appeals to clients looking to detox, reduce their alcohol consumption, as well as families with children.
These small changes can improve the experience of existing guests and attract new ones.
Better Information
My Facebook poll included the question: "On a hotel's website I would like to see more information about…?".
The top three responses were as follows:
A link to a hotel-run Facebook Group where members can ask questions about the hotel in advance of booking
Videos of the rooms
More information about opening & closures of pools, slides and heating of pools
A lack of information, mostly practical, is still a pain point for families looking to book vacations, so simply addressing that will go a long way to attract families (including Muslim families).
In fact, Muslim families have many of the same interests and needs as the wider family-friendly travel market.
When thinking about how halal ready your organization should be, and/or how much to invest in halal, it's important to understand what Muslim travellers really want.
I am developing a new toolkit that will identify common pain points among family travellers and Muslim travellers, and explain how to address them. Market intelligence, innovation, and the human touch are at the heart of this approach and all are necessary to successfully tap into Muslim-friendly travel.
Conclusion
The Muslim travel market is growing at a phenomenal rate, however, it isn't always necessary to make big investments or alienate your existing base in order to serve it.
Rather than looking at Muslim travellers as an exclusive 'halal' market, inclusive initiatives that address vegetarian options, non-alcoholic drinks, and wellness options, for example, will appeal to Muslims as well as the wider travel market.
Like modest fashion, there are many things hotels can do to modify their existing offerings in order to make them more attractive to Muslims and pave the way for new opportunities.
About the author:
Sharmeen Suleman has travelled extensively and worked in a number of industries including health and fashion. She has pioneered a number of projects in the UK's Muslim community including launching a community radio station. She currently works as a family travel and marketing consultant. See her family travel blog or join her Facebook group Family Stays Direct, which helps families find the best holiday deals. Find Sharmeen on LinkedIn.