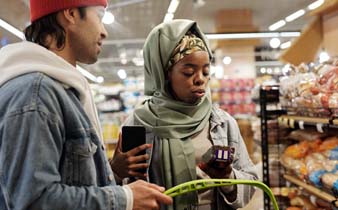 What You Need to Know About Consumers in the Middle East
By Mohamad Chehade, PhD
What You Need to Know About Consumers in the Middle East & North Africa (MENA)
MENA region is on the target of various companies and brands as far as their next expansion is concerned. And why not? The region still largely is a virgin. There is a lot to be explored. But most businesses lack knowledge about the local market and a strategy to move forward.
In this article, we'll bring our expertise to paint a picture of an average consumer in the Middle East and North Africa region.
The MENA Demographic
Before targeting the MENA consumers, it's worth getting an accurate picture of them. With an inaccurate picture, you'll end up creating a disastrous strategy.
MENA, which stands for the Middle East and North Africa, is a geographical region covering 19 countries. This region stretches from Morocco in northwest Africa down to Sudan in Africa to Iran in southwestern Asia. Draw the triangle, and you get the MENA region. This area represents 6% of the total world population.
There's a misconception that MENA is all about Arabian countries. The countries are as diverse as they can be, including Morocco, Egypt, United Arab Emirates, Palestine, Qatar, Israel, and Tunisia, to name a few.
This region is also very important for world economic stability because it houses 60% of global oil reserves. Along with that, 45% of world natural gas reserves are contained beneath this region.
MENA is an extremely vast region, both in area and culture. Multiple cultures reside within this region. There is evident disparity among the nations, and the region isn't a homogeneous one either. Therefore, any attempt to generalize the entire demographic will most likely fail.
MENA region is also of growing interest because the market potential is still untapped.
Profile of a MENA Consumer
To tap into any market, you need to have clarity over your target consumer. That's why creating a customer persona, or a customer profile is very important. If you're looking to target the up and coming audience, you'd be most likely interested in current buying habits and trends. That's not a bad strategy either.
Based on our research from multiple sources, here are a few behavioral patterns we're seeing among the MENA consumers:
Luxury and Exclusivity
MENA consumers prefer luxury and exclusivity. It's a well-known fact that a good portion of individuals in this region have deep pockets. But it's also a fact that these are concentrated in the Middle East. With access to smartphones and high-speed internet, these consumers are open to costly possessions.
Shift to a Healthier Lifestyle
The trend of moving away from an unhealthy diet to a healthy lifestyle has arrived at MENA. In fact, it's already underway. Parts of the MENA region see a massive surge in health and fitness culture. The government's role is undeniable that is coming up with initiatives and policies to curb obesity and diabetes in the region.
The Middle East, especially, has been pretty active in world sports. Qatar will be hosting the FIFA World Cup 2022. Jordan will be hosting the FIFA U-17 Women's World Cup. UAE is already hosting franchise cricket tournaments. Therefore, if your brand is around health consciousness, then now is the time to jump in.
An On-demand Content Consumer
Content consumption is on the rise among MENA residents. With high-speed internet and Video on Demand services, consumers are flocking to these services. This is drastically changing the media landscape, which used to be linear and real-time.
Purchase Cycle is Lengthier
In many of the MENA countries, it's common to have a no return policy on items. Therefore, consumers are inherently more hesitant to purchase a new product, especially from a new brand. Moreover, the research for the product involves multiple parties, including their family and friends.
These trends are here to stay. There still a lot of market penetration to be done. So if executed correctly, your brand will reap benefits in the longer run.
Besides these, you can classify MENA consumers as fashion-savvy and window shoppers. The culture of shame and honor is real in these regions, which plays an important psychological factor in the buying process.
Emerging Markets in MENA Consumer Market
The MENA region has now started to look beyond oil and gas. New industries are emerging. And the best part is consumers in the region are accepting them. These markets hold the largest growth potential.
E-commerce
The MENA e-commerce market is currently worth $8.3 billion market and is said to be in the nascent stage. The annual growth rate is projected to be 25%, making it among the fastest-growing region in the area. Currently, segments like electronics, beauty, fashion, and grocery comprise 80% of the e-commerce market in MENA. Your brand cannot afford to miss the e-commerce bandwagon in MENA.
Omni-channel
While e-commerce is growing, it might not be enough to complete the digitization of the region. A mix of online and offline experience is required, which is called an omnichannel experience. People in this region tend to touch and feel the products before they buy. So you need to provide them a way to experience that touch for themselves. Every industry should adopt the omnichannel strategy, whether it be healthcare, tourism, fashion, or retail.
The Rise of Sharing Economy
The sharing economy has now started to take off. The region had been conservative because of the customs, culture, and history. Brands like Uber and Airbnb have already set up their bases here.
While it may be hard to digest for foreign brands, MENA consumers prefer to be loyal to their home-grown brands. As per a report, Careem, which is a local car-sharing platform, has a 129% conversion since 129% while Uber has 29%.
Just like any other region, MENA is continuously evolving. Only those brands will survive that keep pace with the consumers and evolve accordingly. Creating a consumer persona and identifying the trends still remain the basics of doing business in the MENA region.
So, are you all set to get heard in the MENA region? MLC Media is here to help you take off successfully and make your presence felt. Contact with us today.