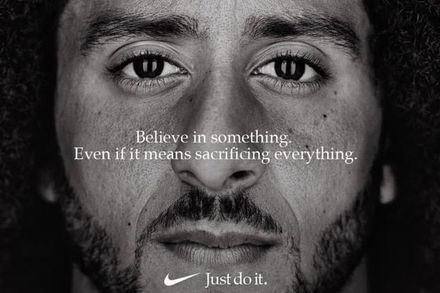 Brands, Publishers and my Conservative High School Facebook Friends
I was on my morning walk in Italy when I heard news break about people burning their Nike gear in response to the company's new ad featuring Colin Keapernick.
I braced myself for the onslaught: the media, the marketers, my Facebook friends.
Forty-eight hours later, a conservative high school Facebook friend posted the status: "Yup!" with a link to a video and headline, Colin Kaepernick Sacrificed NOTHING!
The video is from online television network CRTV's "Here's the Deal," a program with over 600K Facebook followers. CRTV was launched by Mark Levin, editor-in-chief of the Conservative Review.
Like many conservative personalities, Levin is the host of syndicated radio shows "The Mark Levin Show" and "Life, Liberty & Levin" on Fox News.
The About section of "Here's the Deal" reads, "Exposing Democrat hypocrisy, busting up leftist lies, & smacking down liberal race rhetoric — Deneen Borelli gives it to you straight."
Conservative social media commentary today is inflated, rife with conspiracy, discrimination and logical fallacy; I feel sorry for my conservative high school Facebook friends considering the content void they live in.
It's difficult for conservatives to find and share information of real value, and even more difficult for social media companies dealing with trolls, disinformation, and accountability to the American government. People like Alex Jones go down on their own. But I digress.
The Nike ad helps bring my conservative high school Facebook friends, or weaker ties, into perspective because, ultimately, people choose sides and are more likely to post something like the CRTV video.
Which also means the Nike campaign is working.
Not only are people talking about Nike's message, the company also has the privilege of weeding out customers who don't share its values while simultaneously making gains in the multicultural markets impacting the lifestyles and shopping behaviors of Western society.
The CRTV headline also represents its company's brand identity to some degree. Is the message meant to be authoritative? Credible? Because all I'm getting from '…sacrificed NOTHING!' is anger and bias.
Even so, from a marketing perspective the CRTV headline does exactly what it should: arouse my sense of injustice and incredulity so much that I feel compelled to act.
But dogmatism never conveys a spirit of problem solving, and from a human perspective, it's hard to believe the visceral response cycle doesn't disturb the sensibilities of my conservative high school Facebook friends.
Don't they want more from a publisher, if not a president? Politics and marketing make strange bedfellows but they are still bedfellows. Publishers and sportswear companies are politicians, and politicians are brands.
Life is hard and short enough, who wants to get into bed with an angry brand?
But again, I digress.
I scanned the chorus of Facebook comments in support of "Yup!" and the CRTV video:
Just watching stock drop

Had to share

Bigger issue to them should be black on black crime, look at Chicago…crickets
And I decided to comment as well (pasted below):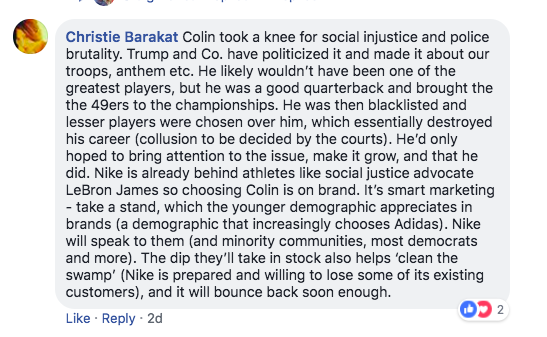 My comment received praise from a few like-minded high school Facebook friends, including a link to Nike's rising stock, but cat-got-tongue for my conservative high school Facebook friends.  
To be clear, Nike was well aware of the risks and benefits of signing Kaepernick and purposely timed the campaign to coincide with the opening of N.F.L. season, which is rife with questions about how to handle peaceful protest by athletes.  
The current N.F.L. rule, back on the table because many consider it hypocritical and un-American, says players may protest by remaining in the locker room during the anthem (separated from their teammates, coaches and fans). On the field they must stand.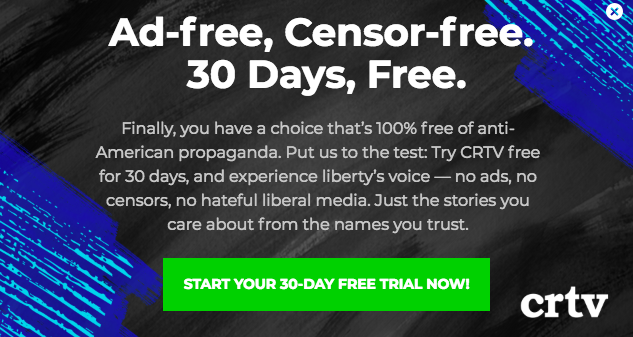 I wonder if my conservative high school Facebook friends know that a veteran and former N.F.L. player convinced Kaepernick to kneel as a sign of respect – a man kneels to propose marriage, one kneels before the Queen and kneels to be crowned.
Kaepernick's teammate Eric Reid explained it in the New York Times:
After hours of careful consideration, and even a visit from Nate Boyer, a retired Green Beret and former N.F.L. player, we came to the conclusion that we should kneel, rather than sit, the next day during the anthem as a peaceful protest. We chose to kneel because it's a respectful gesture. I remember thinking our posture was like a flag flown at half-mast to mark a tragedy.  
But I also suspect my conservative high school Facebook friends care about as much for that two-tour veteran as the one who was deported to Mexico in March.
Call me crazy, but I still wish my conservative high school Facebook friends could understand that this is not about disrespecting America, its flag, or its anthem – even if it is about examining our country.
Professional athletes disrespecting the flag isn't the problem. Colin Kaepernick (who did, by the way, sacrifice a career to shine a light on social injustice), isn't the problem.  
Social injustice is a problem. Police brutality is a problem. The good ol' boys club is a problem.
No, Nike isn't the problem. It's part of the solution, and the Nike campaign is a win. It's on-brand and takes a stand that consumers today can get behind. 
Will it be enough to reverse Nike's existing image problems? Well, it certainly can't hurt.
So to doomsday marketers and my conservative high school Facebook friends, there's only one thing left to say: "Sorry!" (9:29)
*disclaimer: the author of this post heads up marketing and communication for MLC Media. 
This post is part of our Global Insights series (#MLCVoices), which features the opinions of experts, friends and colleagues from around the world.