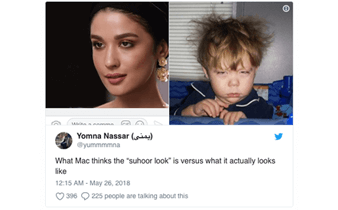 Multicultural Marketing Mishaps: MAC Cosmetics and Western Muslims [Case Study]
This is a guest post by Azmia Magane
The market for Muslim consumerism has grown markedly over the past several years. Islam is the world's fastest-growing religion, and Muslims have tremendous spending power.
Worldwide, Muslims are projected to spend $213 billion on cosmetics and beauty products by 2021 – an increase of $46 billion since 2013, according to Thomson Reuters.
Multicultural is international
To keep up with changing demographics and attitudes about diversity and inclusion, modern agencies include multicultural marketing to Western Muslims among their offerings.
But to be successful, marketers must understand how the attitudes and customs of Western ethnic and religious groups compared to those in other minority and majority cultures.
Not only that, if agencies are not managing a brand's social channels globally, good consultants will guide and educate businesses on how to manage internal, outsourced or international teams.
MAC Cosmetics & Ramadan
MAC has an ubiquitous presence in some parts of the Middle East such as the United Arab Emirates. Given the UAE is a Muslim-majority country, it makes sense for MAC to run Ramadan-themed campaigns.
This year, MAC Cosmetics Middle East created Ramadan-themed content for its Instagram account, including a video about keeping the skin hydrated during the hot summer months of Ramadan (viewed over 18,000 times).
But when the company followed up with a glamorous "Get Ready for Suhoor" makeup tutorial, Twitter's Muslim community went into a tizzy. The tutorial, posted to MAC's Middle East Instagram, Facebook, and YouTube channels, was soon shared by the company's main Facebook page.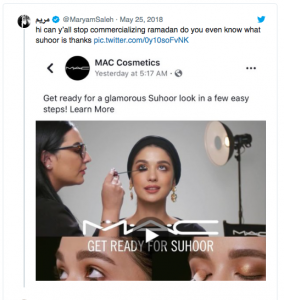 A fierce debate quickly ensued on Muslim Twitter – Muslims in the West were aghast that anyone would show up to suhoor with a full face of makeup.
Comments on MAC's Middle East Instagram echoed, "Suhoor is a time where you wake up at 2am to eat then go back to sleep. It's not a time to get ready for and cake ur face w makeup, get it right."
Varying interpretations
Suhoor refers to the pre-dawn meal eaten just before Muslims begin the daily fast. Mealtime varies depending on which hemisphere you live in, but it almost always falls at an unpleasant hour such as 2 or 3am. Needless to say, most of us aren't going to breakfast with a full face of makeup at 3am.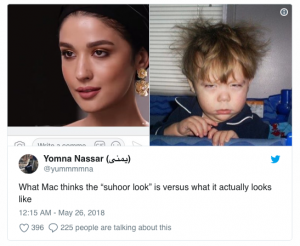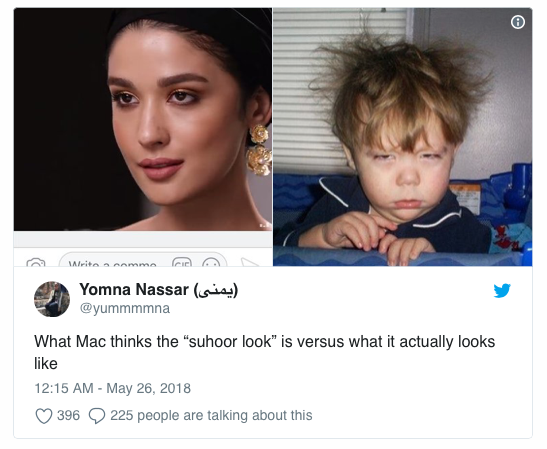 Muslims in some parts of the Middle East were quick to clap back and remind Muslims in the West that not everything was for them and about them, and that glitzy and glamorous suhoor parties are apparently an actual thing in some places like Dubai, Egypt, and Qatar.
Others were upset by the commodification and commercialization of the holy month of Ramadan.
The mockery and memes heard 'round the world was so fierce that MAC Middle East ultimately deleted the video from its YouTube and Facebook pages, keeping it only (and rightly) on its Instagram account.
What MAC did wrong and right
MAC seized the opportunity to speak to its Middle East audience through its regional Instagram account during Ramadan. If glamorous suhoor parties are a thing in Dubai and Doha, MAC's make-up tutorial simultaneously engages, offers value and features its products.
A MAC spokesperson told Teen Vogue, "At MAC, our global fans are a constant source of inspiration. This video was inspired by Suhoor customs in the Gulf Cooperation Council – GCC where during Ramadan friends and family often gather socially. In this context we wanted to support our fans by providing makeup looks celebrating the beauty of Ramadan."
Where MAC erred was assuming that Muslims are monolithic, and that content useful and relatable to Muslims in the Middle East would be similarly useful to Muslims in the West.
MAC posted the video to its main Facebook page assuming the message would be universally applicable to the world's 1.6 billion Muslims. Clearly, not all of us could relate. In this video, UK modest fashion vlogger Dino Tokio explains how brands like MAC have difficulty representing Muslim women internationally.
Basically, when MAC (unwisely) posted the tutorial on its main page, Western Muslims found the content tone-deaf and out of touch.
Ethnic and religious communities do not exist in a vacuum
A quick tweak of the video — such as changing the title to "Get Ready for Iftar" or "Get Ready for Eid" would have made it universally relatable to all Muslims regardless of location, or allowed it to be repurposed to target Muslims in the West without filming entirely new content.
This simple, inexpensive fix would have showed cultural sensitivity and enabled the company to target multiple audiences at once (today the video is available on MAC ME's YouTube account with the title "MAC Cosmetics: Get Ready for Great Skin").
It also would have done a better job representing inclusivity, rather than 'checkbox diversity' for the sake of commodification, and demonstrated MAC's investment in understanding its customer base.
There's a fine line between exploitation and representation.
Multicultural mishaps
MAC may have been trying to reach Western Muslims and Muslims living outside of the Middle East but – deliberately or not – they treated an incredibly diverse population as a monolith and ended up alienating Western Muslims altogether.
MAC Middle East simply deleted the video from its YouTube and Facebook accounts without addressing the controversy publicly or explaining the reasons for its removal, hardly an effective public relations strategy.
MAC's blunder highlights the importance of cultural sensitivity in multicultural marketing as well as establishing company-wide policy for cross-border marketing teams.
Inshallah better luck next time, MAC!
About the author: Azmia Magane is a Muslim American woman and editor at muslimgirl.com. Azmia writes about social justice issues, child welfare, healthcare, feminism, intersectionality, and issues that affect the Muslim community. She is an ambassador for the Lupus Foundation of America's Florida chapter, and a 2017 "Progressive Voices" fellow for the Women's Media Center. Her work has appeared in Cosmopolitan, Teen Vogue, Glamour, Allure, Elle, The Huffington Post and more. Find her on Twitter at @AZMIAakaMIA
This post is part of MLC Media's Global Insights series (#MLCVoices), which features the opinions of experts, friends and colleagues from around the world. For help with Muslim-facing marketing campaigns, get in touch today. Connect with us on Facebook and Twitter @MLCMediaGlobal, and LinkedIn at MLC Media.