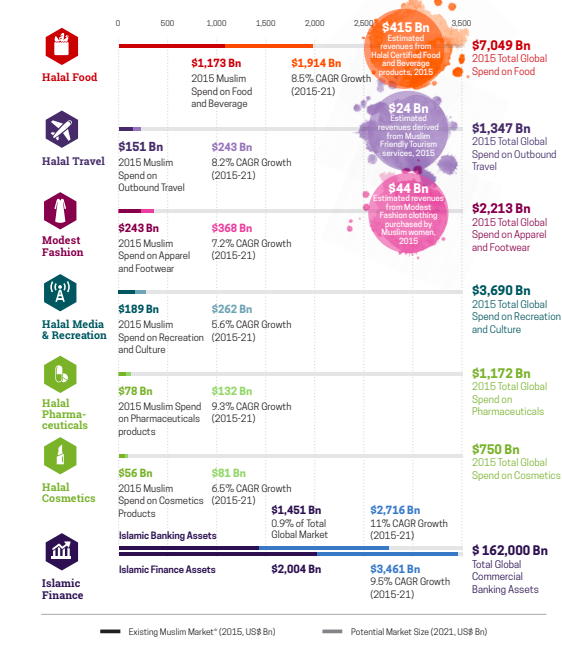 Global Halal Economy Hits $6.4 Trillion: Top Trends for Marketers
The halal market is not only thriving in Muslim majority countries, but also in non-Muslim majority countries like the United States, United Kingdom, Japan and China.
Muslims will make up more than a quarter of the world's population by 2030, growing more than twice as fast as the overall world population.
The Muslim population boom has put the Islamic economy into overdrive, setting the stage for the commercialization of halal products internationally, and moving halal-friendly products and services into the mainstream.
Speaking at the World Halal Conference 2018, Sultan of Perak Sultan Nazrin Muizzuddin Shah said the global halal industry is expected to triple to $6.4 trillion this year, with the Islamic finance sector projected to grow to over $6.7 trillion by 2020.
"While halal is perhaps most often associated with food and drink, there are in fact a wide range of products and services which can be offered including healthcare and pharmaceuticals, personal care and cosmetics, travel and tourism and financial services," he said in a keynote address as reported by the Pakistan Observer.
The inaugural "I Heart Halal" festival kicked off last month in Chicago — an event filled with hundreds of vendors and thousands of guests celebrating Muslim-owned businesses, personalities and cultures.
Salman Chaudry, co-managing director of the event, told Forbes, "…A halal lifestyle is more focused on those who want to live a good, values-driven life."
Nura Afia, the first CoverGirl beauty ambassador who wears a hijab led beauty classes showcasing looks using affordable products. The festival also featured beauty trends like breathable nail polish and two modest fashion shows featuring designers such as Olympian Ibtihaj Muhammad (a member of the U.S. fencing team) and the popular clothing chain Akira, according to a report the Chicago Sun Times.
Designer Sarah Ansari, founder of the clothing and lifestyle company Artizara, told the Times the me-too movement has made modest fashion 'very empowering.'
In the UK alone, which is home to around 3 million Muslims, the Islamic community is fueling some innovative consumer trends in the West, with fresh startups emerging every month to tap into growing demand.
So what does this mean for marketers? Here are the top trends:
Modest Fashion for Guys
Speaking to Al Bawaba, Romanna bint Abu Baker, founder of London Modest Fashion Week (LMFW) and owner of modest fashion boutique, Haute Elan, said more men are interested in modest fashion.
"The panels and collections we have on the runway will demonstrate the emergence of the aesthetically-conscious Muslim man. We have seen a surge in applications from men. What is male modesty? Longer shirts to cover the rear, longer shirts and sweats and accessories, including more contemporary styles of … head covering," she said.
Muslim Dolls
Modest outfits specifically made for Barbie dolls are selling out in the UK. Handmade 'Hijarbie' outfits come in casual and formal styles including ball gowns and wedding dresses, and retail for around £19.99 ($27).
Travel & Hotels
More and more Western tourism agencies are running campaigns to target tourists from the Middle East. Why?
The average Saudi visitor stays for 16 nights and spends £2,370 in the UK compared to the overall average for international visitors who stay seven nights on average and spend £599.
To attract halal-conscious visitors, hotels in London are removing alcoholic drinks from the minibar in guest rooms, providing prayer mats, and halal food options on the hotel's restaurant.
Halal Meals 
In recent years we're seeing an emergence of convenience foods for busy working Muslims.
Walli Datoo, co-founder of Halalnivore, an online gourmet halal meat delivery service, told Al Bawaba there is more growth in the market as the Muslim meat consumer opens up to different options available.
Restaurants are setting themselves apart from the competition with halal-only offerings, and casual dining venues are getting more creative with their menus beyond traditional kebabs and burgers.
Halal Pharmacies 
With the advent of the world's first Halal Pharmaceutical Standard, MS2424:2012 Halal Pharmaceuticals, halal pharmaceutical products are now poised to be the new frontier for the global halal economy.
"With the increasing awareness of consumers, health professionals and related organisations, together with the stronger need to meet consumer rights towards informed choice for a better quality of life with products which are safe, efficacious, of quality and hygienic whilst fulfilling their religious obligations, which will then translate into higher demand, more and more pharmaceutical companies will come on board the halal pharmaceutical industry, thus providing wider range of alternatives to meet such demand," says Rushi Siddiqui, Thomson Reuters consultant for Islamic finance and halal industry.
About MLC
MLC increases your global reach and advertising value with multicultural audiences.
Our exclusive relationship with the award-winning Al Jazeera Media Network lets you reach over 360 million people worldwide via TV, digital and social channels in both English and Arabic.
At the forefront of modest fashion and the $3.7 trillion halal market, we deliver powerful marketing solutions for brands and advertisers.
Contact us today for a free consultation or to learn how we can help you with international and multicultural marketing solutions, including strategy, broadcast and digital advertising, SMM, PPC, SEO, and content marketing.
*featured image by Thomson Reuters