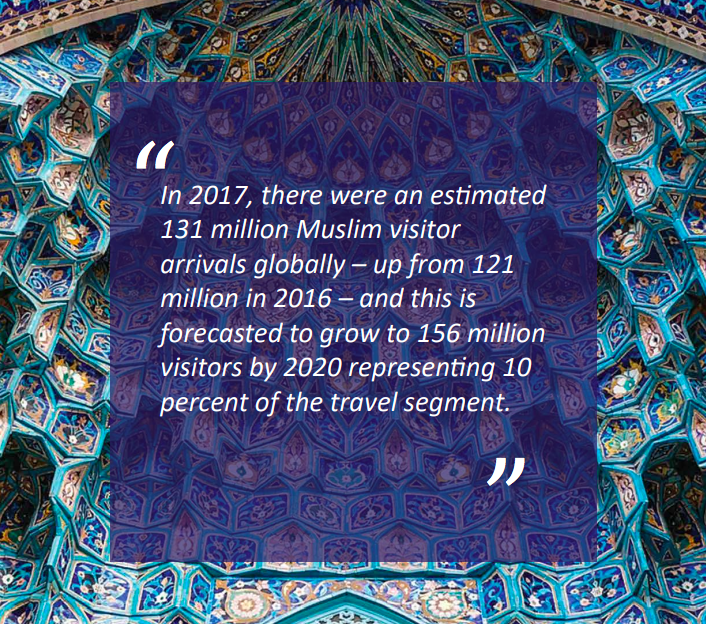 Global Muslim Travel Index 2018
The 2018 Global Muslim Travel Index by Mastercard and Crescentrating forecasts the number of Muslims traveling abroad for tourism will increase to 156 million people by 2020.
The Muslim tourism market will amount to $200 billion, which is expected to grow a further $80 billion to reach $300 billion by 2026.
Millennial Muslims Figure Prominently in 2018 Global Muslim Travel Index
From the report, "The Muslim travel market continues to rapidly grow and evolve amidst a changing environment. As one of the world's highest spending tourist markets, destinations, businesses and travel-related entities need to proactively develop strategies to engage and attract this segment to their destinations."
Key growth drivers of the Muslim travel market include:
a rapidly growing international Muslim population, which is higher than any other religious group
a growing middle class with disposable income
a younger population with the youngest median age of 24, lower than all other religious groups
increased access to travel information
more Muslim-friendly travel services and facilities
Ramadan and business travel
The report also analyses travel market trends as the Muslim lifestyle space experiences several dynamic shifts; profiles key travel segments, finding that young Muslims are looking for authentic, affordable and accessible solutions to meet their travel needs; and offers insights shaping the tourism space for Muslim Millennial travellers.
The index measures this year's most important changes such as access, communications, environment and services; ranks top travel destinations; and includes an interview with Vice President of Development for Shasa Hotel Christian Nader regarding investment insights for the Muslim travel market.
Click here to access the full report.
About MLC Media
MLC Media is the premier marketing agency helping companies, nonprofits, and social-good enterprises connect with Muslim, halal, and Arabic-speaking audiences.
Through our exclusive relationship with the Al Jazeera Media Network, we reach over 360 million people worldwide through TV, digital, and social channels.
At the forefront of the modest fashion and $3.7 trillion halal market, our tailored approach enables us to deliver powerful marketing solutions for brands and advertisers.
For more information or a free consultation, contact us today.
Phone: (708) 529-0115
Email: [email protected]